Hello there! I'm Teacher Berna. I'm 33 years old and I'm from the Philippines. I'm an ESL (English as Secondary Language)
teacher and I'm willing to assist you in learning the language and enhancing communication skills. I'm a highly motivated and dedicated person with strong communication and interpersonal skills who is enthusiastic, goal-oriented, and passionate about my profession, and I love helping others improve their English. It gives me joy and excitement to meet learners around the world. Sharing knowledge and teaching the English way of writing, speaking, pronunciation, and grammar is a pleasure for me as an ESL teacher and a great opportunity to showcase my skills and the best practices I have in teaching English. I would love to share my enthusiasm with the learners on this platform. It's an achievement helping and seeing the students learn English. I love kids, and I'm happy to see them learning from me.
I'm a graduate of Bachelor of Arts in English with an experience of teaching Asian students, like Japanese, Koreans, Chinese, Tawainese, and Indians, both kids and adults. I will be of great assistance. I'll be a coach and guide the students in learning thelanguage and show them the benefit of studying English in a fun way. I'll make our class as lively as possible and we can even be friends. Thank you so much. Have a great day!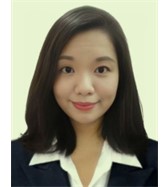 Contact Form and Availability